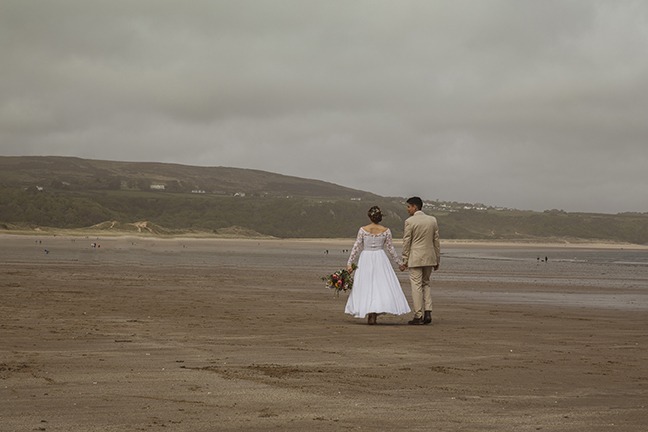 Georgina and Fabian's wedding has been long awaited. The wedding, like many, was postponed due to covid. Their story differed from most couples' though, they were in different countries when we locked down so were parted for many months. Given this backdrop the wedding was emotional to say the least. I can honesty say the couple are so well suited and to be present at their wedding was to be in the presence of love. They chose the Oxwich Bay Hotel for their wedding, they love the bay and spend as much time as they can in the Gower.
Bridal Preparations – and a prayer to the gods of the Welsh weather.
The forecast for the wedding was awful. As the whole day, was going to take place outdoors this made for a pretty stressful run up to the day. In the end we needn't have worried, Georgina and Fabian had obviously had their share of bad wedding luck and the sun shone on them all day. We could not have asked for a better day for this alfresco wedding, it was perfect!
The morning preparations were leisurely and relaxed. There were a few happy tears shed when Georgian's mum walked into the bridal suite to find her daughter in her dress holding her flowers and ready to make her vows.
A beautiful ceremony and an emotional exchange of vows.
Georgina and Fabian decided to write their own vows and they were perfect. Georgina tearfully told Fabian that she fell in love with him so quickly and that she would never take him for granted. I'm known for having a tear in my eye during a ceremony and this day was no exception. There weren't many in the room but when the registrar pronounced them husband and wife there was a cheer from the guests watching the wedding live outside.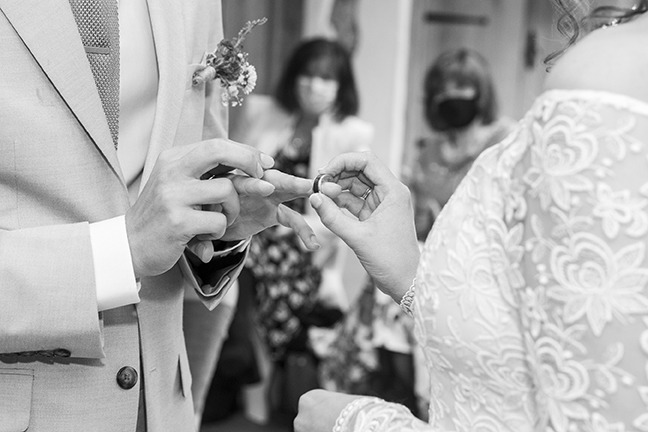 With the formalities over it was time for food, fun and photography.
These are two of my favourite shots from the speeches. "To be here today is to be in the presence of love" summed up my feeling of the day perfectly.
A wander in the dunes and on the beach.
This wedding was not a formal one. nor was it traditional. We mixed things up and actually captured most of the couple's shots after the wedding breakfast. It meant we got the best light and I am in love these images, I hope they capture the essence of the day for Georgina and Fabian.
Fabi and Georgie, thank you so much for asking me to be a part of your day. I have already told you how much I loved being there, you truly are a beautiful couple. I was struck on the day by the way that everyone spoke so kindly of you. Your tenacity and love for each other is an inspiration and it was a joy to work with you.
If you would like more information about my wedding photography packages, please use the links below to call or email. I am based in Pontypridd and cover the whole of Wales and the West of England. If you are planning a wedding further afield please get in touch, where possible, I do travel outside of my local area. I also offer destination wedding photography.
Call: 07966 702773
Email: info@helenjrosephotography.com
Also have a look at this post on questions you should ask your wedding photographer. 10 Questions To Ask Your Wedding Photographer
Also take a look at my Wedding Portfolio